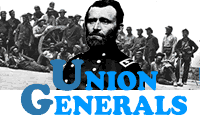 GENERAL JOHN BASIL TURCHIN, USA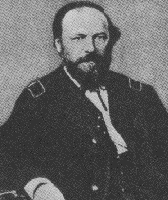 VITAL STATISTICS
BORN: 1822 in Province of the Don, RUSSIA.
DIED: 1901 in Anna, IL.
(Lost his sanity late in life and died in an asylum.)
CAMPAIGNS: Early operations in Missouri, Kentucky, Alabama, Huntsville (ALA), Athens (ALA), Chickamauga, Chattanooga, Missionary Ridge, and Atlanta
HIGHEST RANK ACHIEVED: Brigadier General.

BIOGRAPHY
Ivan Vasilovitch Turchinoff was born on January 30, 1822, in the province of Don, in Russia. He was graduated in 1841 from the Imperial Military School in St. Petersburg, and rose to the rank of colonel. Turchinoff fought in Hungary and the Crimea, and performed the engineering feat of designing the coastal defenses of Finland. In 1856, he came to the United States with his wife, who was the daughter of a Russian officer; settled in Chicago and worked for the Illinois Central Railroad. By the time the Civil War began, Turchinoff had changed his name to John Basil Turchin, and joined the Union service. He was commissioned colonel of the 19th Illinois Volunteers in June of 1861, and trained his troops into an efficient outfit. Turchin's wife accompanied him, and served as a nurse and mentor to the regiment. After leading his troops in operations in Missouri, Kentucky and Alabama; Turchin obtained brigade command in the Army of the Ohio. Because of his successes, including the capture of Huntsville, Alabama, he was nicknamed the "Russian Thunderbolt." His concepts of war were shaped by his experiences in Europe, where total war was the rule. Thus, when his troops reached Athens, Alabama, some of whose inhabitants had shot at his brigade, Turchin told his troop that he would "shut mine eyes for von hour" and permit them to loot the city. When his troops did not raze and torch Athens, Turchin said, "I shut mine eyes for von hour and a half," after which his troops followed his implications. Maj. Gen. Don Carlos Buell had Turchin court-martialed for this action, and ordered him cashiered. Turchin's wife went on a mission to Washington, D.C., and persuaded President Lincoln to override Buell's order. Lincoln was so impressed by Mme. Turchin that he not only kept Turchin in uniform, but promoted him to brigadier general as of July 17, 1862. Turchin went on to serve in the XV Corps at Chickamauga, Chattanooga and in the Atlanta Campaign. His poor health caused him to resign his commission in October of 1864, after which he returned to Chicago. He worked there as an engineer and a patent solicitor. Turchin lost his sanity in his later years, and died in an insane asylum in Anna, Illinois, on June 19, 1901.