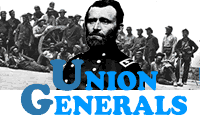 GENERAL GEORGE HENRY THOMAS, USA
VITAL STATISTICS
BORN: 1816 in Southhampton County, VA.
DIED: 1870 in San Francisco, CA.
CAMPAIGNS: First Bull Run, Mill Springs, Corinth, Shiloh, Perryville,
Stone's River, Chickamauga, Chattanooga Seige, Lookout Mountain,
Missionary Ridge, Atlanta, Peachtree Creek, and Nashville.
HIGHEST RANK ACHIEVED: Major General.

BIOGRAPHY
George Henry Thomas was born in Southampton County, Virginia, on July 31, 1816. He served in the US Army in the years before the Civil War, but when the secession crisis began, he expected to resign and join the Confederacy. Thomas faced a personal crisis in 1861, and decided to stay loyal to the Union. This decision alienated him from his family and friends, and made him distrusted by the US government. Thomas led troops in the Shenandoah Valley during the First Bull Run Campaign. Promoted to brigadier general on August 17, 1861, he was transferred to Kentucky, and won a victory for the Union at Mill Springs in January of 1862. He was promoted to major general on April 25, 1862, and fought in the Siege of Corinth and the Battles of Shiloh, Perryville and Stone's River. His service at Chickamauga earned him the nickname "Rock of Chickamauga." Thomas helped break the Confederate siege of Chattanooga, then performed well at the Battles of Lookout Mountain and Missionary Ridge. His successes won him the position of second-in-command on Maj. Gen. William T. Sherman's staff in the Atlanta Campaign. As the head of the Army of the Cumberland, Thomas commanded well in the Battle of Peachtree Creek. He organized the defenses of Nashville, but received little support because of his superiors' and subordinates' lack of trust in his loyalty to the Union. After two days of hard fighting, resulting in a victory, the Union officers and troops were convinced of Thomas' patriotism and abilities. Promoted to major general of the Regulars, he was placed in command of the Division of Tennessee and the Departments of Tennessee and the Cumberland. Thomas remained in that position, and was awarded a Thanks of Congress on March 3, 1865. After the Civil War, in 1869, Thomas requested the command of the Division of the Pacific, which he was given. He died a year later, on March 28, 1870, at his office in San Francisco, California.