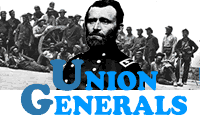 GENERAL ALFRED HOWE TERRY, USA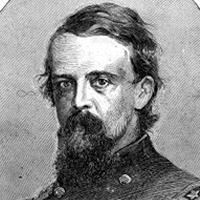 VITAL STATISTICS
BORN: 1827 in Hartford, CT.
DIED: 1890 in New Haven, CT.
CAMPAIGNS: First Bull Run, Port Royal, Fort Pulaski, Fort Fisher,
Sealing off of Washington (Confederacy's last port on the east coast).
HIGHEST RANK ACHIEVED: Major General.

BIOGRAPHY
Alfred Howe Terry was born in Hartford, Connecticut, on November 10, 1827. After attended Yale Law School in 1848, he withdrew from the Connecticut bar, and served as clerk of the New Haven County Superior Court until the Civil War. When the war began, he joined the Union forces, and commanded the 2d Connecticut at the First Battle of Bull Run. Terry recruited troops for three years, and took part in the capture of Port Royal, South Carolina and Fort Pulaski, Georgia. Promoted to brigadier general on April 26, 1862, he led a corps in the in the operations against Petersburg and Richmond. He was part of the force that tried to capture Fort Fisher, North Carolina. Later placed in command of the effort, he succeeded in capturing the fort and sealing off the Confederacy's last port on the East Coast, Wilmington. Terry won a Thanks of Congress for this achievement, and was promoted to major general of volunteers, and brigadier general in the Regular Army, as of January 15, 1865. He spent the last section of the war in the Carolinas in the Army of the Ohio, under Maj. Gen. William T. Sherman. After the Civil War, Terry led a department in the West and fought Native Americans. After serving on the military board that reexamined the Fitz John Porter casein 1878, he was promoted to major general in the Regular Army in 1886; one of the few people to obtain that rank in the volunteers and the Regulars without having attended West Point. Terry died on December 16, 1890, in New Haven, Connecticut.