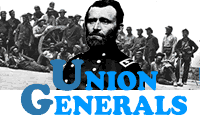 GENERAL SAMUEL DAVIS STURGIS, USA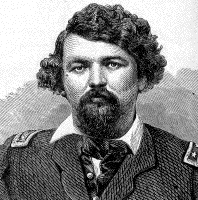 VITAL STATISTICS
BORN: 1822 in Shippensburg, PA.
DIED: 1889 in St. Paul, MN.
CAMPAIGNS: Wilson's Creek, Second Bull Run, South Mountain, Antietam, Fredericksburg, Brice's Cross Roads.
HIGHEST RANK ACHIEVED: Major General.

BIOGRAPHY
Samuel Davis Sturgis was born on June 11, 1822, in Shippensburg, Pennsylvania. He graduated from West Point in 1846, and fought in the Mexican War. In the 1850s, he served on the frontier, fighting against Native Americans, and obtaining the rank of captain. When the Civil War began, Sturgis was in command of Fort Smith, Arkansas. He refused to surrender the fort, and was able to remove his troops and a great deal of property to Fort Leavenworth, Kansas. Sturgis fought at Wilson's Creek, in Missouri; and was promoted to brigadier general to date from August 10, 1861 (the date of the engagement at Wilson's Creek). He commanded a brigade in the defenses of Washington, D.C. While leading troops to support Maj. Gen. John Pope's Army of Virginia before the Second Battle of Bull Run, Sturgis commented, "I don't care for John Pope one pinch of owl dung!" Sturgis went on to lead a division of the IX Corps at South Mountain, Antietam and Fredericksburg. Appointed chief of cavalry of the Army of the Ohio; he was later routed at Brice's Cross Roads , Mississippi, in June of 1864. Despite the rout, Sturgis was brevetted brigadier and major general in the Regulars in March of 1865. He mustered out of the volunteers in August and joined the Regulars, fighting Native Americans in the West. Sturgis resigned in 1886, and died on September 28, 1889, in St. Paul, Minnesota.