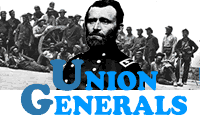 GENERAL GEORGE CROCKETT STRONG, USA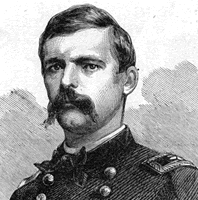 VITAL STATISTICS
BORN: 1832 in Stockbridge, VT.
DIED: 1863 in New York City, NY.
CAMPAIGNS: Peninsula, Fredericksburg, Chancellorsville, Atlanta, Stoneman's Raid (Southwestern Virginia), Stoneman's Raid (North Carolina and Virginia).
HIGHEST RANK ACHIEVED: Major General.

BIOGRAPHY
George Crockett Strong was born on October 16, 1832, in Stockbridge, Vermont. He grew up in Easthampton, Massachusetts, and was reared by his uncle. Graduating from the US Military Academy in 1853, he served in arsenals in the East and South, and became assistant superintendent of the Watervliet Arsenal in New York. In January of 1861, he was promoted to 1st lieutenant, and began the Civil War as chief of ordnance in the Department of Northeastern Virginia. He participated in the First Bull Run Campaign, and served in New Orleans. While he was on duty in Louisiana, Strong became chief of staff to the Massachusetts political general. His leadership performance in expeditions in the South brought about a promotion to brigadier general of volunteers, to date from November 29, 1862. In the spring of 1863, he served in the Department of the South, under Maj. Gen. Quincy A. Gillmore. Strong's attempts to attack the Confederate work at Battery Wagner were unsuccessful, and he was wounded in the thigh. On his way to New York City for treatment, he contracted tetanus, and died in New York City on July 20, 1863. The US Senate confirmed Strong's nomination as major general the day after he died.