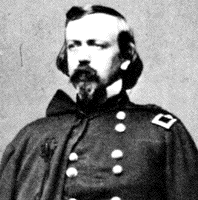 VITAL STATISTICS
BORN: 1824 in Greenfield, MA.
DIED: 1887 in New York City, NY.
CAMPAIGNS: Rockville Expedition, Ball's Bluff, Port Hudson, and Red River.
HIGHEST RANK ACHIEVED: Brigadier General.

BIOGRAPHY
Charles Pomeroy Stone was born in Greenfield, Massachusetts, on September 30, 1824. Graduating from West Point in 1845, he served in the Mexican War under Gen. Winfield Scott, and was later employed privately as chief commissioner for the exploration of Sonora, a state in Mexico. When the Civil War began, Stone became a colonel for the District of Columbia Volunteers in April of 1861, placed in charge of the safety of the capital and the President. After fighting in the Shenandoah Valley and taking part in the Rockville Expedition; he was promoted to brigadier general of volunteers, to rank from May 17, 1861. Stone was blamed for the Union failure at Ball's Bluff in the autumn of 1861, and the Committee on the Conduct of the War had him arrested at midnight on February 8, 1862. He was placed in solitary confinement in Fort Lafayette in New York for 50 days with no explanation, then was moved to Fort Hamilton . Held for a total of 189 days, he was released in August, without ever having been confronted with charges. Stone went on to serve at Port Hudson and in the Red River Campaign, then resigned from the army in September of 1864. After the Civil War, Stone served as superintendent for a mining company in Virginia, then was chief of staff in the Egyptian army for 13 years. When he returned to the United States, he worked as engineer for the Florida Ship Canal Company, then moved to New York City. In New York, he worked as an engineer, and helped build the foundation of the Statue of Liberty. Stone died on January 24, 1887, in New York City, and was buried at West Point.