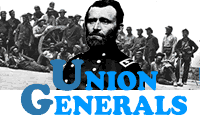 GENERAL JAMES BLAIR STEEDMAN, USA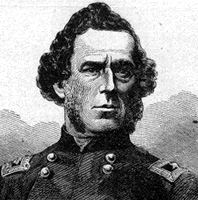 VITAL STATISTICS
BORN: 1817 in Northumberland County, PA.
DIED: 1883 in Toledo, OH.
CAMPAIGNS: Philippi, Mills Springs, Corinth, Perryville, Tullahoma, Chickamauga, Chattanooga, Atlanta and Nashville.
HIGHEST RANK ACHIEVED: Major General.

BIOGRAPHY
James Blair Steedman was born in Northumberland County, Pennsylvania, on July 29, 1817. He was orphaned when he was very young and obtained little formal education. He learned printing, and worked on newspapers in Lewisburg, Pennsylvania and Louisville, Kentucky. After serving in the military in Texas, he moved to Ohio, and was elected to the state legislature for two terms. In 1849, he joined the gold rush, then worked as proprietor of the Toledo, Ohio "Times." Active in the Democratic Party, he was appointed US government public printer in 1857, and won a seat in the 1860 Charleston and Baltimore Democratic Conventions. After losing the 1860 election for Congress, he raised the 14th Ohio Infantry for service in the Civil War. Elected colonel of the 14th, he fought at the Battle of Philippi and in other locations in western Virginia, then reorganized the regiment after its enlistment period expired. In 1862, Steedman took part in the Battle of Mill Springs, and marched on Corinth, Mississippi. Promoted to brigadier general on July 17, 1862, he led a brigade in the Battle of Perryville, and participated in the Tullahoma Campaign and the Battle of Chickamauga. After the Chattanooga siege, he fought in the Atlanta Campaign, and participated in the Battle of Nashville. He resigned his volunteer commission on August 18, 1866. Until 1869, he was a collector of Internal Revenue for New Orleans. He then returned to Toledo, Ohio, edited the "Northern Ohio Democrat" and served in the state senate. Elected chief of police of Toledo in May of 1888, he died in Toledo, Ohio, on October 18, 1883.