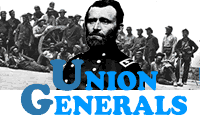 GENERAL DAVID SLOANE STANLEY, USA
VITAL STATISTICS
BORN: 1828 in Cedar Valley, OH.
DIED: 1902 in Washington, DC.
CAMPAIGNS: Wilson's Creek, New Madrid, Island No. 10, Corinth,
Atlanta, Snake Creek Gap, Resaca, Kenasaw Mountain, Vining's Station,
Jonesborough, Columbia, Spring Hill and Franklin.
HIGHEST RANK ACHIEVED: Major General.

BIOGRAPHY
David Sloane Stanley was born on June 1, 1828, in Cedar Valley, Ohio. He grew up on a farm, and was apprenticed to a physician when he was 14 years old. Stanley was interested in a military career, however, and was excited to receive an appointment to the US Military Academy at West Point. Graduating in 1852, in the West Point class known for having produced 15 future generals, he became an officer in the 2d US Dragoons. In the years before the Civil War, Stanley served at frontier garrisons in Arkansas, California, Texas and Kansas. He refused a commission in the Confederate army in 1861, and fought for the Union at Wilson's Creek, under Maj. Gen. John C. Frémont. Promoted to brigadier general of volunteers on September 28, 1861, Stanley participated in the fighting at New Madrid and Island No. 10, under Maj. Gen. John Pope; and fought under Maj. Gen. William S. Rosecrans at Corinth, Mississippi. Rosecrans appointed Stanley chief of cavalry of the Army of the Cumberland, whose strength Stanley greatly enhanced. Stanley became a major general in April of 1863, and led a division through the Atlanta Campaign, but Maj. Gen. Sherman thought he was too slow at Jonesborough in September of 1863. Stanley improved his reputation when he served well in the Tennessee campaign in November, and was seriously wounded at Franklin. After the Civil War, Stanley commanded the 22d US Infantry, and served in Texas during the French occupation of Mexico, and in different frontier posts. In 1873, he led the Yellowstone Expedition, and retired from the service in June of 1892, having held the rank of brigadier general in the US Army for eight years. Stanley later became governor of the soldiers' home in Washington, D.C., and died in that city, on March 13, 1902.