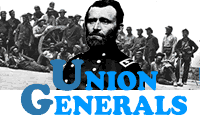 GENERAL JULIUS STAHEL, USA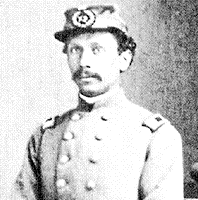 VITAL STATISTICS
BORN: 1825 in Szeged, HUNGARY.
DIED: 1912 in New York City, NY.
CAMPAIGNS: First Bull Run, Shenandoah Valley, Second Bull Run,
New Market, and Piedmont.
HIGHEST RANK ACHIEVED: Major General.

BIOGRAPHY
Julius Stahel was born in Szeged, Hungary, on November 5, 1825. He was educated in Szeged and in Budapest, then enlisted in the Austrian army. Stahel became a proponent of Hungarian independence, and fought in the revolutionary army, but fled when the revolt was suppressed in 1848. After working as a teacher and journalist in London, then Berlin, he moved to the United States in 1859 and began working for a newspaper in New York City. When the Civil War began, he and Louis Blenker, a German revolutionary expatriate, organized the 1st German Rifles. Stahel fought as lieutenant colonel at the First Battle of Bull Run, and was promoted to brigadier general on November 12, 1861. In the operations of 1862, he led troops during the Shenandoah Valley Campaign and in the Second Battle of Bull Run. Promoted to major general on March 17, 1863, he led the cavalry in the defenses of Washington, D.C. Under Maj. Gen. Franz Sigel, Stahel commanded troops at New market, Virginia. Although Sigel's replacement, Maj. Gen. David Hunter, said that "it would be impossible to exaggerate the inefficiency of General Stahel"; Stahel served with distinction at Piedmont in June of 1864. He was wounded, and later, in 1893, was awarded a Medal of Honor. Stahel served on courts-martial until he resigned in February of 1865. After the Civil War, Stahel worked in the consular service in Japan and China for 20 years. He resigned because of ill health, and returned to the United States in 1885, establishing an association with the Equitable Insurance Company of New York. Stahel died on December 4, 1912, in New York City.