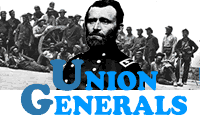 GENERAL ANDREW JACKSON SMITH, USA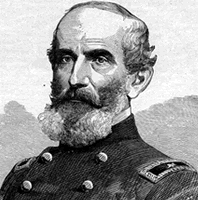 VITAL STATISTICS
BORN: 1815 in Bucks County, PA.
DIED: 1897 in St. Louis, MO.
CAMPAIGNS: Corinth, Chickasaw Bluffs, Arkansas Post, Vicksburg
Red River, Tupelo, and Mobile.
HIGHEST RANK ACHIEVED: Major General.

BIOGRAPHY
Andrew Jackson Smith was born in Bucks County, Pennsylvania, on April 28, 1815. He grew up on a farm in Buckingham Township, in southeastern Pennsylvania, and was the son of a veteran of the Revolutionary War and the War of 1812. Andrew Jackson Smith was named after his father's commander at the War of 1812's Battle of New Orleans, who later became President of the United States. Young Andrew attended the US Military Academy at West Point, and graduated in 1838. After serving almost exclusively in the West for over two decades, he became colonel of the 2d California Cavalry when he Civil War began. He was appointed brigadier general of volunteers after the Corinth Campaign, to rank from March 17, 1862. He was given divisional command, leading expeditions to Chickasaw Bluffs and Arkansas Post. Smith led a division in the Vicksburg Campaign, and took part in the Red River Campaign. Promoted to major general of volunteers on May 14, 1864, he defeated Confederate general Nathan B. Forrest at the Battle of Tupelo. Transferred to Missouri, then sent back to Tennessee, he fought in the Battle of Nashville. Smith's final engagement in the Civil War was the 1865 campaign against Mobile, Alabama. He remained in the army for four years, resigned in 1869 and moved to St. Louis, Missouri. After serving as postmaster of the city, city auditor and commander of a state militia brigade, Smith died at his home in St. Louis, on January 30, 1897.