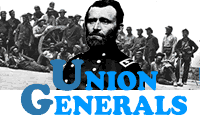 GENERAL HENRY WARNER SLOCUM, USA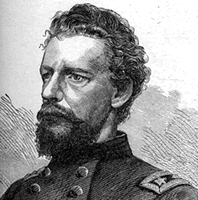 VITAL STATISTICS
BORN: 1827 in Delphi, NY.
DIED: 1894 in Brooklyn, NY.
CAMPAIGNS: First Bull Run, South Mountain, Antietam, Fredericksburg, Chancellorsville, Gettysburg, Chickamauga and March to the Sea.
HIGHEST RANK ACHIEVED: Major General.

BIOGRAPHY
Henry Warner Slocum was born on September 24, 1827, in Delphi, New York. After attending Cazenovia Seminary in New York, he taught school, and was admitted to the US Military Academy at West Point. Graduating in 1852, he fought against Seminoles in Florida, and was stationed at Fort Moultrie, South Carolina. Resigning to practice law, he moved to Syracuse, New York. Slocum served as county treasurer, state legislator and state militia officer. After Fort Sumter fell in 1861, Slocum became colonel of the 27th New York Infantry. He took part in the First Battle of Bull Run, and was seriously wounded. After he recovered, he was given brigade, then divisional command. Commissioned major general of volunteers as of July 4, 1862, Slocum was involved in the fighting in a number of battles and campaigns, including South Mountain, Antietam, Fredericksburg, Chancellorsville and Gettysburg. After participating in the Battle of Chickamauga, he and his troops were sent south as the Army of the Tennessee. After some controversies about leadership, Slocum ended up commanding the XX Corps, then led the Army of Georgia in 1864 for the March to the Sea. Slocum resigned from the service in September of 1865, and returned to Syracuse, New York. After running unsuccessfully for New York secretary of state, he moved to Brooklyn and practiced law there. He was elected to the US House of Representatives for three terms, and served on the board of the Gettysburg Monument Commission. Slocum died in Brooklyn, New York, on April 14, 1894.