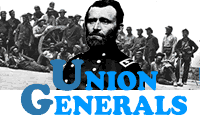 VITAL STATISTICS
BORN: 1824 in Baden, GERMANY.
DIED: 1902 in New York City, NY.
CAMPAIGNS: Camp Jackson, Wilson's Creek, Pea Ridge, Shenandoah Valley, Second Bull Run and New Market.
HIGHEST RANK ACHIEVED: Major General.

BIOGRAPHY
Franz Sigel was born on November 18, 1824, in Baden, Germany. He graduated from Karlsruhe Military Academy, and retired from the German Army in 1847. Serving as minister of war for the 1848 Revolution against Prussia, he fled the country when the revolution failed. In 1852, he immigrated to the United States, by way of Switzerland and England. He taught school in St. Louis, Missouri, and became a leader of the large German American population in the area. Sigel was commissioned a brigadier general on August 7, 1861, and had progressed to major general on March 22, 1862. He took part in the capture of Camp Jackson, a secessionist camp in St. Louis. Later, he served at Wilson's Creek. At Pea Ridge, he scored the greatest military victory of his career. Sigel also served in the Shenandoah Valley, at Bull Run (Second) and at New Market, in Virginia. Sigel was relieved of field command after his defeat at New Market, and resigned his commission in May of 1865. While his military record included more mediocre than remarkable performance, he contributed to the Union cause by rallying German Americans and helping maintain their loyalty to the Union. Sigel spent the rest of his life as a civilian, and died in New York City, on August 21, 1902.