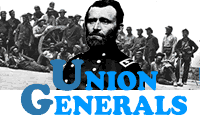 GENERAL DANIEL EDGAR SICKLES, USA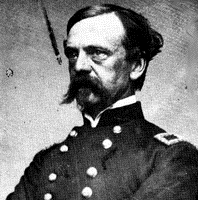 VITAL STATISTICS
BORN: 1819 in New York City, NY.
DIED: 1914 in New York City, NY.
CAMPAIGNS: Peninsula, Antietam, Fredericksburg, Chancellorsville, and Gettysburg.
HIGHEST RANK ACHIEVED: Major General.

BIOGRAPHY
Daniel Edgar Sickles was born in New York City, New York, on October 20, 1819. Sickles studied law at New York University, and took part in Democratic politics, serving in Congress from 1857-1861. He came to public attention in 1859, when he shot his wife's lover, who was the son of Francis Scott Key. He was acquitted on the grounds that he had been defending his home and family. In September of 1861, he became a brigadier general of volunteers in the Union forces. Promoted to major general with divisional command on November 29, 1862, he fought in the Peninsula Campaign, at Antietam, at Fredericksburg and at Chancellorsville. Sickles later served at Gettysburg, where his advance resulted in the Union troops suffering a heavy Confederate assault. Sibley was wounded in the right leg, which was amputated, and his command was taken away. After a bitter conflict between Sibley and Maj. Gen. George G. Meade, Sickles retired in 1869, with the rank of major general in the Regular Army. He held various public positions, including US minister to Spain (1869-71) and US Congressman (1893-95). Sickles died on May 3, 1914, in New York City.