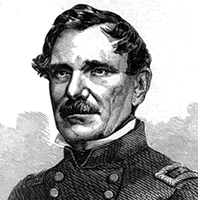 VITAL STATISTICS
BORN: 1810 in Tyrone City, IRELAND.
DIED: 1879 in Ottumwa, IA.
CAMPAIGNS: Shenandoah Valley.
HIGHEST RANK ACHIEVED: Brigadier General.

BIOGRAPHY
James Shields was born on May 10, 1810, in City Tyrone, Ireland. He was well educated in Ireland, and was fluent in four languages. Immigrating to the United States in 1826, he settled in Kaskaskia, Illinois, and became a lawyer and member of the Democratic Party. Taking part in the Black Hawk War; he was later elected to the state legislature, and served as state auditor and justice of the Illinois Supreme Court. Initially in conflict with Abraham Lincoln, the two men eventually became good friends. Shields was a brigadier general of Illinois volunteers in the Mexican War, and served in the US Senate from 1849 to 1855. After losing a final bid for reelection, he settled in Minnesota, and was elected to the US Senate from that state in 1858. When the Civil War began, President Lincoln commissioned Shields a brigadier general on August 19, 1861. Shields took part in the Shenandoah Valley Campaign of 1862, and was defeated by Confederate Maj. Gen. "Stonewall" Jackson. Any additional appointments or positions he may have held are not known. He resigned from the army in March of 1863, and moved to San Francisco, California and held a state railroad post. Settling in Missouri by 1866, he was chosen in 1879 to served an unexpired term in the US Senate after his unsuccessful attempt to get elected to Congress. His poor health prevented him from running for reelection. Shields died while on a lecture tour in Iowa, on June 1, 1879.