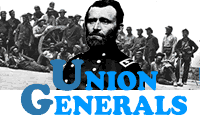 GENERAL THOMAS WEST SHERMAN, USA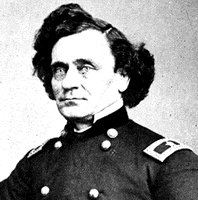 VITAL STATISTICS
BORN: 1813 in Newport, RI.
DIED: 1879 in Newport, RI.
CAMPAIGNS: Defense of Washington DC, Louisiana-- including Port Hudson.
HIGHEST RANK ACHIEVED: Brigadier General.

BIOGRAPHY
Thomas West Sherman was born in Newport, Rhode Island, on March 26, 1813. He is best remembered for having walked almost 400 miles from home in order to speak with President Andrew Jackson. Sherman was 18 years old, and was dissatisfied with the educational opportunities available in Rhode Island. Jackson rewarded him for his effort by giving him an appointment to the US Military Academy at West Point. Graduating from West Point in 1836, he fought in Florida and in Indian Territory; and helped with the transfer of Cherokees. He also served at Fort Moultrie, South Carolina and worked as a recruiter. During the Mexican War, Sherman served under Gen. Zachary Taylor (the future President), then spent time stationed in Connecticut, Rhode Island, Minnesota and Kansas. He commanded his own expedition to crush a Sioux uprising at Kettle Creek. Sherman's service in the Civil War began in the defense of Washington, D.C., in 1861. Promoted to brigadier general of volunteers, he was sent south to seize bases on the coast to support the Union blockade. His abrasive personality led to his experiencing conflicts with his superior. Assigned to the Department of the Gulf, he spent the rest of the war in Louisiana, where he was wounded. His wounds led to the amputation of his right leg, and Sherman retired from the military in 1870, at the rank of major general. Sherman died in his home in Newport, Rhode Island, on March 16, 1879.