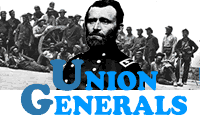 GENERAL PHILIP HENRY SHERIDAN, USA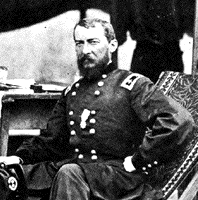 VITAL STATISTICS
BORN: 1831 in Albany, NY.
DIED: 1888 in Nosqitt, MA.
CAMPAIGNS: Corinth (as Quartermaster), Booneville, Perryville,
Stone's River, Chicamauga, Chattanooga, Missionary Ridge, Wilderness,
Todd's Tavern, Spotsylvania Court House, Cold Harbor, Sheridan's Richmond Raid,
Yellow Tavern, Trevilian Station, Third Winchester, Fisher's Hill, Cedar Creek,
Sheridan's Virginia Raid, Waynesborough, Five Forks, Sayler's Creek.
HIGHEST RANK ACHIEVED: Major General.

BIOGRAPHY
Philip Henry Sheridan was born in Albany, New York, on March 6, 1831. His parents were Irish immigrants, and he was educated in Somerset, Ohio. He was so eager to pursue a military career that he lied about his age in order to be admitted to the US Military Academy a year early. His behavior there led to his being suspended for a year, but he managed to reach his graduation in 1853. Sheridan served on the frontier along the Rio Grande, then fought against Native Americans in the Northwest. In 1861, he was made a captain in the 13th Infantry in southwest Missouri. During the campaigning in Corinth, Sheridan was quartermaster for Maj. Gen. Henry W. Halleck's troops. Sheridan was not happy with staff duty, and made life rather difficult until he was appointed colonel of the 2d Michigan Cavalry in May of 1862. Within a month of his assignment, Sheridan scored a victory at Booneville, Mississippi. Promoted to brigadier general of volunteers on September 13, 1862, he fought with distinction at Perryville and at Stone's River. He was promoted to major general to rank from December 31, 1862, and led a division at Chickamauga and Chattanooga. When Maj. Gen. Ulysses S. Grant became a lieutenant general, he placed Sheridan, nicknamed "Little Phil," in command of all the cavalry in the Army of the Potomac. Sheridan's military career developed quickly, largely because of his willingness to take the offensive often and aggressively and his ability to exploit his advantages over his opponent. These basic principles, when applied against the weakening Confederate forces, brought about many Union victories attributable to Sheridan. He led the cavalry at the Wilderness, Todd's Tavern, Spotsylvania, Court House and Cold Harbor. In Sheridan's Richmond Raid of 1864, his troops severed important Confederate communication lines around Richmond, and destroyed railroad tracks, telegraph capabilities and a great deal of stores and supplies. Sheridan's troops struck a major blow at the Confederacy at Yellow Tavern, where Confederate Lt. Gen. J. E. B. Stuart was killed; but they were defeated at Trevilian Station in June of 1864. Lt. Gen. Grant placed Sheridan in command of the Army of the Shenandoah in August of 1864, with instructions to push Confederates south and destroy supplies that could be used to aid them. Thus, Sheridan destroyed the Shenandoah Valley, which had been a fertile region. This made him the object of tremendous Confederate hatred and resentment, although Sheridan defended the action as necessary to end the war. He was almost defeated in Lt. Gen. Jubal Early's surprise attack at Cedar Creek, but Sheridan rode to the front and led his troops to victory. He received a Thanks of Congress, and was promoted to major general in the Regular Army to date from November 8, 1864. He led raids in Virginia in February and March of 1865, and defeated the Confederate army at Waynesborough in March of 1865. Sheridan's building up of a Union presence at Five Forks in the spring of 1865 forced the Confederates to evacuate Petersburg. As the Confederates retreated, Sheridan and his troops pursued them and defeated them at Sayler's Creek. He and his troops were present when Confederate Gen. Robert E. Lee surrendered to Grant. After the Civil War, Sheridan was assigned to the Military Division of the Gulf, dealing with the sensitive state of affairs resulting from conflicts between the Mexican liberals and French-supported Maximilian. In 1867, Sheridan was made commander of the Fifth Military District, including Texas and Louisiana;but his harsh policies led to his removal after six months. Promoted to lieutenant general in 1869, he served in various posts until he became commander-in-chief in 1884. On June 1, 1888, Sheridan was promoted to full general; and finished his "Personal Memoirs" only three days before he died in Nosquitt, Massachusetts, on August 5, 1888.