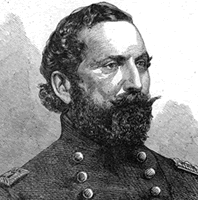 VITAL STATISTICS
BORN: 1813 in Cornwall Hollow, CT.
DIED: 1864 in Spotsylvania, PA.
(Just before the Battle).
CAMPAIGNS: Peninsula, Antietam, and Gettysburg.
HIGHEST RANK ACHIEVED: Major General.

BIOGRAPHY
John Sedgwick was born in Cornwall Hollow, Connecticut, on September 13, 1813. He attended Sharon Academy for a brief period and taught school for two winters before he obtained an appointment to the US Military Academy at West Point. Graduating in 1837, he fought under Gen. Winfield Scott in the Mexican War, and spent the years before the Civil War in Indian campaigns. Promoted to brigadier general as of August 31, 1861, he led a division in the Peninsula campaign, and was made a major general to rank from July 4, 1862. Sedgwick was wounded at Antietam, then was placed in command of a corps after he recovered. He also took part in the Gettysburg, Fredericksburg, Chancellorsville, Mine Run and Wilderness Campaigns. Considered a solid and dependable, yet modest leader; he was even rumored to be under consideration for command of the Army of the Potomac. On May 9, 1864, shortly before the Battle of Spotsylvania, Sedgwick was shot in the head and killed. He was buried in Cornwall Hollow, Connecticut.