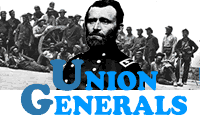 GENERAL JOHN McALLISTER SCHOFIELD, USA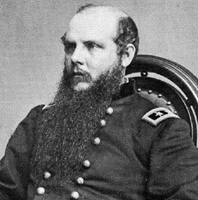 VITAL STATISTICS
BORN: 1831 in Gerry, NY.
DIED: 1906 in St. Augustine, FL.
CAMPAIGNS: Wilson's Creek, Atlanta and Franklin.
HIGHEST RANK ACHIEVED: Major General.

BIOGRAPHY
John McAllister Schofield was born in Gerry, NY, on September 29, 1831. He graduated from West Point in 1853, served with the 1st Artillery in Florida, then returned to West Point to teach philosophy until 1860. While he was on leave to teach physics at Washington University, in St. Louis, Missouri; the Civil War began. Promoted to brigadier general on November 21, 1861, he took part in organizational duties. He was appointed major general of volunteers on May 12, 1863, and placed in command of the Department and Army of the Ohio. Schofield fought in Sherman's campaign against Atlanta; and at Franklin and Nashville. Leading the Department of North Carolina, he worked with Sherman in operations against Confederate Gen. Joseph E. Johnston. After the war ended, Schofield displayed his skills as an administrator, commanding the First Military District in Virginia. He traveled to France to negotiate the removal of French troops from Mexico. Briefly serving as Secretary of War in 1868 under President Andrew Johnson, he was later superintendent of West Point for five years. Schofield became commanding general of the army in 1888, and retired as a lieutenant general in 1895. He died on March 4, 1906, in St. Augustine, Florida.