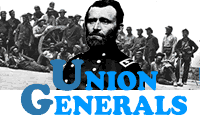 GENERAL ROBERT CUMMING SCHENCK, USA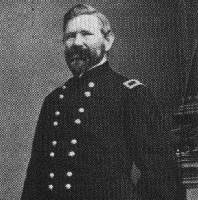 VITAL STATISTICS
BORN: 1809 in Franklin, OH.
DIED: 1890 in the District of Columbia
CAMPAIGNS: First Bull Run, Shenandoah Valley, Cross Keys, and Second Bull Run.
HIGHEST RANK ACHIEVED: Major General.

BIOGRAPHY
Robert Cumming Schenck was born on October 4, 1809, in Franklin, Ohio. Graduating from Miami University, he practiced law in Dayton, Ohio, then served in the Ohio legislature. Elected to the US House of Representatives for four terms, he resigned in 1851 and became minister to Brazil. Formerly a Whig, Schenck became a strong Lincoln supporter in the 1860 Presidential campaign. When the Civil War, he was commissioned a brigadier general to rank from May 17, 1861; due to his political power rather than military abilities or training. Schenck led a brigade at Bull Run (First), then led troops at Cumberland, Maryland in the spring of 1862. He took part in the Shenandoah Valley Campaign of 1862, the Battle of Cross Key and the Second Battle of Bull Run. Promoted to major general to date from August 20, 1862, he commanded the Middle Department and the VII Corps until the end of 1863, when he retired from the army. Schenck returned to Congress, and served four more terms in the US House of Representatives. Chairing the Committee on Military Affairs and the Ways and Means Committee, he was a powerful politician. However, he was defeated for reelection in 1870. He was appointed minister to Great Britain, and became a member of the "Alabama" claims Commission. Upon his return to the United States in 1876, he wrote about draw poker, on which he was an authority, and practiced law in Washington, D.C. Schenck died in the District of Columbia, on March 23, 1890.