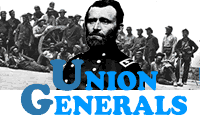 GENERAL WILLIAM STARKE ROSECRANS, USA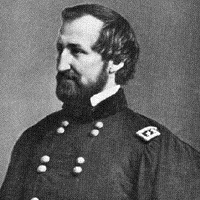 VITAL STATISTICS
BORN: 1819 in Delaware County, OH.
DIED: 1898 in Redondo, CA
CAMPAIGNS: Rich Mountain, Siege of Corinth, Iuka, Corinth
Stone's River, and Chickamauga.
HIGHEST RANK ACHIEVED: Brigadier General.

BIOGRAPHY
William Starke Rosecrans was born on September 6, 1819, in Delaware County, Ohio. He graduated from the US Military Academy at West Point in 1842, and was appointed a 2d lieutenant in the Corps of Engineers. Rosecrans resigned from the army in 1854, and became an architect and civil engineer. When the Civil War began, he served as a volunteer aide, helping to organize and train Union volunteer troops. Rosecrans was a Democrat, and a Roman Catholic, in addition to being an excellent officer. His broad appeal and competence made him an attractive candidate for brigadier generalship to the Republican administration. Rosecrans was promoted to brigadier general to date from May 16, 1861, and served well in western Virginia. After wining the Battle of Rich Mountain, he led a division during the Siege of Corinth, Mississippi. Commanding the Army of the Cumberland, he took part in the Battles of Stone's River and Chickamauga. His poor leadership at Chattanooga led to his being relieved from command and placed at the head of the Department of Missouri, his last active command. He spent more than two years without a command, then resigned from the army in 1867. In 1868, President Andrew Johnson appointed Rosecrans minister to Mexico, but he was removed from the position the next year by President Ulysses S. Grant. Rosecrans retired to his ranch in California, then was elected to the US House of Representatives in 1880. After serving a second term there, he was appointed register of the treasury until 1893. Rosecrans died in Redondo, California, on March 11, 1898.