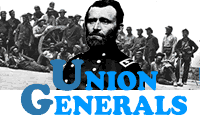 GENERAL JOHN RODGERS, USA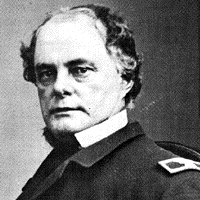 VITAL STATISTICS
BORN: 1812 in Havre de Grace, MD.
DIED: 1882 in the District of Columbia
(Died as the oldest active Rear Admiral of the US Navy).
CAMPAIGNS: Port Royal, Peninsula, Charleston Blockade, and Wassaw Sound (GA).
HIGHEST RANK ACHIEVED: Commodore.

BIOGRAPHY
John Rodgers was born in Havre de Grace, Maryland, on August 8, 1812. His father had been a naval hero, and young Rodgers became a midshipman in 1828. After cruising the Mediterranean on the "Constellation" and the "Concord," he attended the naval school at Norfolk, Virginia. He attended the University of Virginia for a year, then returned to the sea. Rodgers fought in the Seminole War, and served all over the world before the Civil War. When the Civil War began, Rodgers, a commander, was ordered to Cincinnati, Ohio. He served the Union cause, and helped bring about the surrender of Fort Walker and Fort Beauregard. Participating in the Peninsula Campaign, in which he served on the "Galena"; he later commanded the "Weehawken" as it sunk the Confederate ironclad, the "Atlanta." President Lincoln ordered him to be given a thanks of Congress, and was promoted to commodore to date from June 17, 1863. After serving on the "Canonicus" and the "Dictator," he held administrative positions until the end of the war. Following the Civil War, Rodgers led an American squadron off the coast of Chile. In 1869, he ran the Boston Navy Yard, and was promoted to rear admiral on December 31, 1869. He commanded in the Pacific Ocean, and retired from sea duty in 1872. Rodgers went on to head several naval examining boards, lead the Mare Island shipyard of San Francisco and become superintendent of the Naval Observatory. When Rodgers died on May 5, 1882, in the District of Columbia, he was the oldest active rear admiral in the US Navy.