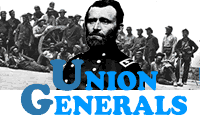 GENERAL ROBERT BROWN POTTER, USA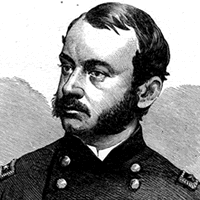 VITAL STATISTICS
BORN: 1829 in Schenectady, NY.
DIED: 1887 in Newport, RI.
CAMPAIGNS: Roanoke Island, New Berne, Cedar Mountain, Antietam, Fredericksburg, Vicksburg, Jackson (Miss.), Knoxville, Wilderness, Spotsylvania, Petersburg and Crater.
HIGHEST RANK ACHIEVED: Major General.

BIOGRAPHY
Robert Brown Potter was born on July 16, 1829, in Schenectady, New York. His father was an Episcopal bishop, and his grandfather was the president of Union College. Potter attended his grandfather's school, then left it to pursue a career in law. He passed the bar and got married, but his marriage was brief and tragic. When the Civil War began, Potter was a widowed father of a young daughter, working as an attorney in New York City. He joined the New York Rifles militia as a private, then was appointed major of the 51st New York. Potter took part in Brig. Gen. Ambrose E. Burnside's 1862 expedition to North Carolina, fighting at Roanoke Island and being wounded at New Berne. In August of 1862, he participated in the Battle of Cedar Mountain, then at Antietam, helping to break the bottleneck at Burnside Bridge. For the rest of the war, he served in the IX Corps, fighting at Fredericksburg. Potter was promoted to brigadier general on March 13, 1863, and took part in the victories that summer at Vicksburg and Jackson, Mississippi. He was also involved in the Battles of the Wilderness and Spotsylvania, and the Siege of Petersburg. Some of Potter's troops who were former coal miners dug the mine involved in the Battle of the Crater at Petersburg, and Potter was the only division commander present with his men when the disaster occurred. Brevetted to major general on August 1, 1864, he was severely wounded on April 2, 1865, during the final attack on the Petersburg lines. Potter was promoted to major general on September 29, 1865, and mustered out of the service in January of 1866. Potter's ill health caused difficulties for him for the rest of his life. He worked as receiver of the Atlantic & Great Western Railroad from 1866 to 1869, then went into partial retirement. He lived in England until 1873, then moved to his estate in Newport, Rhode Island. Potter died on the estate, on February 19, 1887, and was buried in Greenwood Cemetery in Brooklyn, New York.