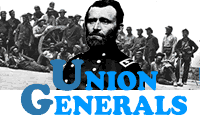 GENERAL JOHN GRUBB PARKE, USA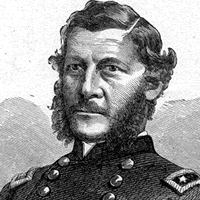 VITAL STATISTICS
BORN: 1827 in Chester County, PA.
DIED: 1900 in District of Columbia.
CAMPAIGNS: Roanoke Island, New Berne, South Mountain, Antietam
Frederickburg, Vicksburg, Blue Springs, Knoxville, Wilderness,
Spotsylvania, Petersburg (seige), Hatcher's Run and Appomattox.
HIGHEST RANK ACHIEVED: Major General.

BIOGRAPHY
John Grubb Parke was born on September 22, 1827, in Chester County, Pennsylvania. When he was young, he and his family moved to Philadelphia, Pennsylvania. Parke studied at a private academy, then at the University of Pennsylvania. Obtaining an appointment to the US Military Academy at West Point, he graduated in 1849. As a lieutenant of engineers, he surveyed areas in Minnesota, New Mexico Territory, California and Washington Territory. When the Civil War began, Parke became captain of engineers, and was a Union brigadier general as of November 23, 1861. Taking part in the North Carolina expedition, he fought at Roanoke Island and New Berne, North Carolina in 1862. Promoted to major general on July 18, 1862, he participated in small operations in Virginia in the summer. Parke became Brig Gen. Ambrose E. Burnside's chief of staff, and served at the Battles of South Mountain, Antietam and Fredericksburg. After taking command of the IX Corps, he led it in Kentucky and during the Siege of Vicksburg in 1863. Parke also contributed to the Union effort in the capture of Jackson, Mississippi, and was brevetted a colonel in the Regular Army to date from July 12, 1863. He went back to Burnside's staff, and fought with the Army of the Ohio in East Tennessee; as well as at the engagement at Blue Springs and the Siege of Knoxville. Leading the IX Corps again, Parke fought at Hatcher's Run, Fort Stedman and the Appomattox Campaign. He was brevetted a brigadier and major general in the Regulars for his service at Knoxville and Fort Stedman, and remained in the volunteer service until January of 1866. Parke went back to surveying, and remained an engineer, obtaining a promotion to colonel by March 17., 1884. He served as commandant of West Point from 1887 o 1889, after which he retired and moved to the District of Columbia. Parke died there on December 16, 1900.