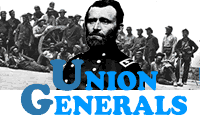 GENERAL NATHAN KIMBALL, USA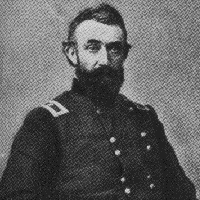 VITAL STATISTICS
BORN: 1822 in Fredericksburg, IN.
DIED: 1898 in Ogden, UT.
CAMPAIGNS: Cheat Mountain, Greenbrier River, Kernstown, Antietam, Fredericksburg, Vicksburg, Arkansas, Atlanta, Peachtree Creek, Franklin and Nashville.
HIGHEST RANK ACHIEVED: Major General.

BIOGRAPHY
Nathan Kimball was born on November 22, 1822, in Fredericksburg, Indiana. He attended what is now known as DePauw University, then worked as a teacher, farmer and physician. After serving in the Mexican War, he returned to his medical practice until the beginning of the Civil War. Returning to the army in 1861, fought well at Kernstown in 1862, defeating Confederate Maj. Gen. Thomas J. "Stonewall" Jackson. This was one of the few tactical victories ever achieved over Jackson. Promoted to brigadier general on April 16, 1862, he fought at Antietam, and was severely wounded at Fredericksburg, but returned to service after his recovery. He went on to participate in the Vicksburg, Atlanta and Franklin and Nashville Campaigns, and was brevetted a major general of volunteers on February 1, 1865. After the war ended, Kimball was appointed Indiana commander of the Grand Army of the Republic, then became state treasurer and legislator. He moved west in 1873, and was appointed surveyor general of Utah and postmaster of the city of Ogden. He died in Ogden, on January 21, 1898.