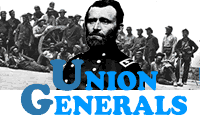 GENERAL HUGH JUDSON KILPATRICK, USA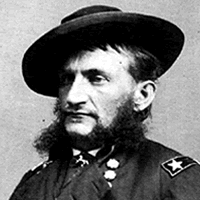 VITAL STATISTICS
BORN: 1836 in Deckerson, NJ.
DIED: 1881 in Santiago, CHILE (Diplomatic post).
CAMPAIGNS: Big Bethel, Gettysburg, Drive to Atlanta, March to Sea, Carolinas.
HIGHEST RANK ACHIEVED: Major General.

BIOGRAPHY
Hugh Judson Kilpatrick was in Deckertown, New Jersey, on January 14, 1836. He was born into a family of modest circumstances, and soon developed the practice of becoming friendly with influential people. His connections allowed him to obtain an appointment to the US Military Academy at West Point, from which he graduated in 1861. Less than two months after graduation, Kilpatrick became the first Regular Army officer wounded in action in the Civil War, at the skirmish at Big Bethel. Because of his aggressiveness and cultivation of influential friends, he was able to rise quickly through the military ranks. Kilpatrick lacked discipline and order. Although his cavalry commands generally performed well on parade and in battle, their camps were less than exemplary, with prostitutes as frequent visitors. In the Gettysburg campaign, Kilpatrick, known as "Kilcavalry" for his recklessness in

combat, ordered a charge on Richmond, in March of 1864, which ended in disaster. After the raid, known as the Kilpatrick-Dahlgren Raid, Kilpatrick took part in Sherman's advance on Atlanta. After being wounded and recovering, he joined Sherman's March to the Sea and the Carolinas Campaign. By the end of the war, Kilpatrick was a major general. He resigned his commission, and accepted a position as minister to the Republic of Chile. After an unsuccessful bid for Congress in 1880, he returned to his diplomatic position. Kilpatrick died on December 14, 1881, in Santiago, Chile. His remains were eventually moved to West Point, where they were finally buried.