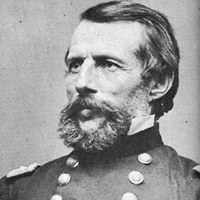 VITAL STATISTICS
BORN: 1810 in Brimfield, MA.
DIED: 1895 in Nice, FRANCE
(While in Europe on holiday).
CAMPAIGNS: First Bull Run, Peninsula, and Gettysburg.
HIGHEST RANK ACHIEVED: Major General.

BIOGRAPHY
Erasmus Darwin Keyes was born on May 29, 1810, in Brimfield, Massachusetts. His father was a doctor, but young Keyes chose to enter the military. Graduating from West Point in 1832, he served in the Regular Army, fighting against Native Americans on the frontier and performing garrison duty. Keyes was Gen. Winfield Scott's aide and military secretary on three occasions, and taught artillery and cavalry skills at West Point. When the Civil War began, Keyes was placed in command of a brigade, which he led at the First Battle of Bull Run. Promoted to brigadier general to date from May 17, 1861, he later took command of a division. President Lincoln made him commander of the new IV Corps in March of 1862, and Keyes was promoted to major general on May 5, 1862. Keyes led the corps in McClellan's Peninsula Campaign with competence, but was removed from command after questionable performance in the Gettysburg Campaign. Keyes asked for an investigation of the charges that led to his removal, but this request was never granted. After a year of administrative duty, he resigned from the army on May 6, 1864. Keyes then moved to San Francisco, and became a prosperous gold miner, banker and winemaker. While he was on vacation in Europe, Keyes died in Nice, France, on October 14, 1895.