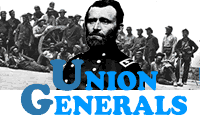 GENERAL PHILIP KEARNY, USA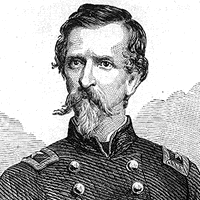 VITAL STATISTICS
BORN: 1815 in New York City, NY.
DIED: 1862 in Battle of Chantilly, VA.
CAMPAIGNS: Peninsula, Second Bull Run, Chantilly.
HIGHEST RANK ACHIEVED: Major General.

BIOGRAPHY
Philip Kearny was born on June 2, 1815, in New York, New York. His mother died when Kearny was only 9 years old, and the young boy grew up with his mother's father, a wealthy and socially prominent man. Young Kearny's uncle, Gen. Stephen Watts Kearny, was a US dragoon, and his influence on young Kearny sowed the seeds of military interest in the boy. Philip Kearny's grandfather, however, who had lost all of his sons, convinced Philip to attend Columbia University. Kearny graduated in 1833, then traveled extensively. Upon his grandfather's death, Kearny inherited $1 million. He returned home, and joined the military as a 2d lieutenant in the 1st US Dragoons. After serving for two years, he was sent to the French Cavalry School at Saumur to study cavalry tactics. While overseas, he fought in Algiers. Returning to the US, he became an aide-de-camp first to Alexander Macomb, then to Winfield Scott. Kearny fought in the Mexican War, and was wounded so seriously that he had to have his left arm amputated. Brevetted for gallantry, he later served in California, then resigned from the army. He got married and established a home in New Jersey. Kearny returned to the military in 1859, joining Napoleon III's Imperial Guard in the Italian War. Awarded the French Legion of Honor, he returned to the US and was appointed brigadier general of volunteers when the Civil War began. Commanding a New Jersey brigade, he became a respected officer, and made a name for himself during the Peninsula Campaign. Kearny was promoted to major general, in charge of a division. On September 1, 1862, during the Battle of Chantilly, he rode into enemy lines by mistake. He was killed instantly, and was buried in Trinity Churchyard in New York City. His remains were moved to the National Cemetery at Arlington, Virginia. After his death, the town in New Jersey in which he had lived was renamed "Kearny." In addition, the Kearny Medal and Kearny Cross, given to members of the 1st Division/III Corps/Army of the Potomac, were named in his honor. The Kearny Medal was given to officers who had served with honor while Kearny had still been in command, while the Kearny Cross was given to enlisted men of the division.