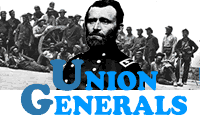 GENERAL JOHN ALEXANDER LOGAN, USA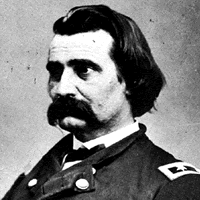 VITAL STATISTICS
BORN: 1826 in Jackson County, IL.
DIED: 1886 in the District of Columbia.
CAMPAIGNS: Belmont, Fort Donelson, Atlanta, Carolinas.
HIGHEST RANK ACHIEVED: Major General.

BIOGRAPHY
John Alexander Logan was born on February 9, 1826, in Jackson County, Illinois. Educated by tutors and in the schools near his home, he eventually attended Louisville University in Kentucky, and fought in the Mexican War. Upon return to civilian life, Logan worked as a lawyer, and was elected four times to the state legislature as a Democrat and was a presidential elector for James Buchanan in 1856. Logan was elected twice to the US House of Representatives. Coming from a Southern family which had migrated to the North and himself supporting the Fugitive Slave Act, Logan was a Unionist under scrutiny for his loyalty. Despite these and other potential connections to the Confederacy, Logan demonstrated his loyalty to the Union, and joined the Union army. He fought at Belmont and Fort Donelson, and was appointed a brigadier general as of March 21, 1862. Promoted to major general to rank from November 29, 1862, Logan was an effective officer, and soon became a favorite of Generals Grant and Sherman. Although he was an excellent fighter, Logan was not skilled in administration, and was basically a politician. This slowed down his progress through the ranks, and instilled in him a resentment toward professional soldiers. Nevertheless, Logan performed well in the Atlanta Campaign and, although he went to Illinois to campaign for the Republicans, he returned in time to take part in the Carolinas Campaign. After the Civil War ended, Logan went back to politics. As a Radical Republican, he served in the US House of Representatives (1867-71) and the US Senate (1871-77, 1879-86). Losing a bid for Vice President in 1884, he was loyal to Grant in peace as he had been in war. However, Logan used corrupt methods to advance his own career. He is credited with the idea of celebrating Memorial day, but used the holiday to exploit the war casualties for his own political gain. Logan remained active in veterans affairs, and wrote two books about the Civil War: "The Great Conspiracy" (1886) and "The Volunteer Soldier in America" (1887). Logan died in the District of Columbia, on December 26, 1886.