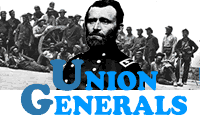 GENERAL HENRY MOSES JUDAH, USA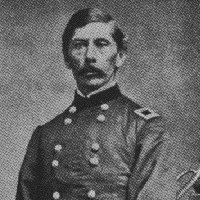 VITAL STATISTICS
BORN: 1821 in Snow Hill, MD.
DIED: 1866 in Plattsburg, NY.
CAMPAIGNS: Shiloh, Corinth, and Morgan's Ohio Raid.
HIGHEST RANK ACHIEVED: Brigadier General.

BIOGRAPHY
Henry Moses Judah was born on June 12, 1821, in Snow Hill, Maryland. He graduated from West Point in 1843, and served in the Mexican War. Serving in various positions during the early years of the war, he was appointed a brigadier general of volunteers on March 21, 1862. In June of 1863, Judah was assigned to command the 3d Division of the XXIII Corps. He was stationed in Cincinnati, Ohio, and ordered to pursue Confederate raider John Hunt Morgan. He did not succeed in this task, and was eventually placed on administrative duty in the Department of the Cumberland until the end of the war. He was brevetted a lieutenant colonel and colonel in the Regulars on March 13, 1865. At the rank of major, Judah was placed on garrison duty in Plattsburg, New York, where he died on January 14, 1866.