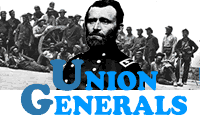 GENERAL DAVID HUNTER, USA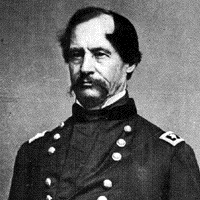 VITAL STATISTICS
BORN: 1802 in District of Columbia.
DIED: 1866 in Washington, DC.
CAMPAIGNS: First Bull Run, Fort Pulaski, Secessionville, and Piedmont.
HIGHEST RANK ACHIEVED: Major General.

BIOGRAPHY
David Hunter was born on July 21, 1802, in the District of Columbia. Graduating from West Point in 1822, he spent the years before the Civil War serving in small positions on the northwest frontier. On May 17, 1861, he was appointed brigadier general, in command of the 2d Division in Brig. Gen. Irvin McDowell's army. Promoted to major general on August 13, 1861, he took part in the First Battle of Bull Run, in which he was seriously wounded. Hunter was assigned to lead a division in Missouri , and eventually became commander of the Western Department. Taking over the Department of the South in 1862, he captured Fort Pulaski, Georgia. While he abolished slavery in his department on May 9, 1862, President Lincoln reversed the action, since Hunter had surpassed his authority. Hunter went on to raise the 1st South Carolina, an all-black regiment, which Congress approved. In June of 1862, while trying to capture Charleston, South Carolina, Hunter was defeated at Secessionville. After the defeat, he was suspended from duty temporarily. In May of 1864, Hunter was assigned to the Department of West Virginia. After cutting Confederate supply, communication and railroad lines, he won a victory at the Battle of Piedmont. At Lynchburg, he and his troops retreated from Lt. Gen. Jubal A. Early, leaving the area unprotected during Early's Washington Raid. Hunter was criticized for his retreat; and, after meeting with Lt. Gen. Ulysses S. Grant and Maj. Gen. Philip H. Sheridan, Hunter resigned his command on August 8, 1864. Maj. Gen. Sheridan was then able to clear the Shenandoah Valley of Confederate troops. After the end of the Civil War and Lincoln's assassination, Hunter was president of the committee to try the assassination conspirators. He was later brevetted a brigadier and major general in the Regular Army, and lived in Washington, D.C. until his death, on February 2, 1866.