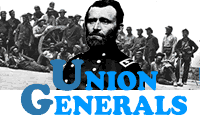 GENERAL ANDREW ATKINSON HUMPHREYS, USA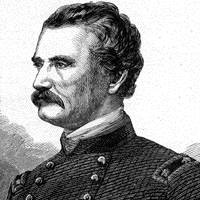 VITAL STATISTICS
BORN: 1810 in Philadelphia, PA.
DIED: 1883 in District of Columbia.
CAMPAIGNS: Antietam, Fredericksburg and Gettysburg.
HIGHEST RANK ACHIEVED: Major General.

BIOGRAPHY
Andrew Atkinson Humphreys was born on November 2, 1810, in Philadelphia, Pennsylvania. His father and grandfather had designed and built ships for the US Navy. Young Humphreys attended the US Military Academy, graduating in 1831, but left the army for two years to work as an engineer. He was then appointed an engineer officer, and served as a junior officer in the Seminole War. Humphreys became one of the top army engineers by the time the Civil War began, although he had not been on combat duty for over 20 years. Once the Civil War began, he became a staff officer for Maj. Gen. George B. McClellan of the Army of the Potomac. Humphreys obtained divisional command right before the Battle of Antietam, and later served well at the Battles of Fredericksburg and Gettysburg. Shortly after Gettysburg, he was appointed chief of staff to Maj. Gen. George G. Meade; and given the rank of major general to rank from July 8, 1863. While he could only obtain the rank promotion by accepting the staff post, he was thus unable to lead troops, which was the only military duty he wished to perform. In November of 1864, Humphreys received an opportunity to command troops when Maj. Gen. Winfield S. Hancock was wounded, and Humphreys took over the II Corps from him. Humphreys led the corps through to the end of the war. After the Civil War, he led the Corps of Engineers, serving for 13 years, and wrote about the campaigns of the Army of the Potomac. In 1879, he retired from the military, and died in the District of Columbia, on December 27, 1883.