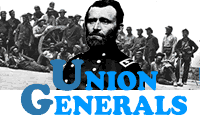 GENERAL OLIVER OTIS HOWARD, USA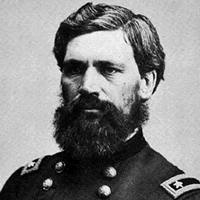 VITAL STATISTICS
BORN: 1830 in Leeds, ME.
DIED: 1909 in Burlington, VT.
CAMPAIGNS: First Bull Run, Seven Pines, Antietam, Fredericksburg, Chancellorsville, Gettysburg, Atlanta, March to the Sea, and Carolinas.
HIGHEST RANK ACHIEVED: Major General.

BIOGRAPHY
Oliver Otis Howard was born on November 8, 1830, in Leeds, Maine. After graduating from Bowdoin College in 1850, he attended the US Military Academy at West Point, and graduated in 1854. Howard was teaching mathematics at West Point when the Civil War broke out. He was placed in command of the 3d Maine Regiment, which he led at the First Battle of Bull Run. Although his troops left the field in disorder, Howard served well enough to earn a promotion to brigadier general. Howard was a devout Christian, and tried to prevent his troops from drinking and gambling. In May of 1862, he served in the Battle of Seven Pines, for which he was awarded a medal of honor in 1893. Wounded in the battle, he had to have his right arm amputated. After his recovery, he was placed in command of a division at the Battles of Antietam and Fredericksburg, and was promoted to major general on November 29, 1862. Howard led the XI Corps at Chancellorsville, where he was routed by Confederate Lt. Gen. Thomas J. "Stonewall" Jackson, and contributed to the Union defeat. At Gettysburg, Howard briefly served as senior commander, and selected Cemetery Hill and Cemetery Ridge was sites on which Union forces could anchor their position. He received a thanks of Congress citation for this action. In the Atlanta Campaign, Howard commanded the IV Corps, under Maj. Gen. William T. Sherman, and commanded the Army of the Tennessee during the March to the Sea and the Carolinas Campaign. After the Civil War ended, President Lincoln and Secretary of War Stanton chose Howard to be the head of the Freedmen's Bureau. He maintained high standards of action in the Bureau, but refused to acknowledge the shady dealings of some of his staff. Thus, the agency became corrupt, and Howard was brought before a court of inquiry in 1874. Nevertheless, he was cleared of all charges against him, and he continued working to improve the lives of African Americans. He went on to help found Howard University in Washington, D.C. In the late 1870s and 1880s, he fought against Native Americans in the West, and served as superintendent of the US Military Academy. Commissioned a major general in the Regular Army in 1886, Howard took command of the Division of the East. He retired in 1894, and spent his last years living in Burlington, Vermont; working for religious and educational causes and helping found Lincoln Memorial University, at Harrogate, Tennessee. Howard died in Burlington, on October 26, 1909.