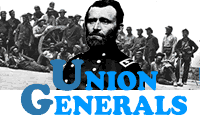 GENERAL ALVIN PETERSON HOVEY, USA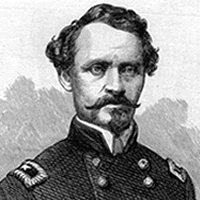 VITAL STATISTICS
BORN: 1821 in Mount Vernon, IN.
DIED: 1891 in Indianapolis, IN.
CAMPAIGNS: Shiloh, Vicksburg, and Atlanta.
HIGHEST RANK ACHIEVED: Major General.

BIOGRAPHY
Alvin Peterson Hovey was born near Mount Vernon, Indiana, on September 26, 1821. He was the youngest of 8 children, and was orphaned by the time he was 15 years old. After working as an apprentice bricklayer, he taught school, studied law and was admitted to the bar. When the Mexican War began, Hovey was commissioned a lieutenant in the local volunteer company, although he saw no combat service. He went on to become a member of Indiana's constitutional convention, a circuit judge and the youngest justice on the Indiana supreme court up to that time. He served on the bench for two years, then became a US district attorney. In 1858, after having switched from the Democratic Party to the Republican Party, he ran for Congress, but lost the election. At the beginning of the Civil War, he was commisioned a colonel, partially due to his political connection, and was placed in command of the 24th Indiana Infantry. Hovey led his regiment in Missouri and participated in the Battle of Shiloh. Promoted to brigadier general on April 28, 1862, he led a brigade in the Department of Eastern Arkansas that autumn. By February of 1863, Hovey was commanding the 12th Division of the XIII Corps in Maj. Gen. Ulysses S. Grant's Army of the Tennessee. Hovey led his division in the Vicksburg Campaign, earning praise from Grant. Returning to Indiana in December of 1863, Hovey organized troops and sent them to the front. He left Indiana and fought in the early stages of the Atlanta Campaign, but took a leave in June 1864. Maj. Gen. William T. Sherman thought that Hovey's timing of this leave poor, and Hovey's division was disbanded. By the end of the Civil War, Hovey was commander of the District of Indiana. Brevetted a major general of volunteers, he performed administrative duties, struggled with Peace Democrats and recruited about 10,000 troops. The young, unmarried men Hovey recruited were known as "Hovey's Babies." After the Civil War ended, Hovey practiced law, and was US minister to Peru for five years. He was a member of the US House of Representatives in 1888-89, and was elected governor of Indiana in 1889. Hovey died in office in Indianapolis, Indiana, on November 23, 1891.