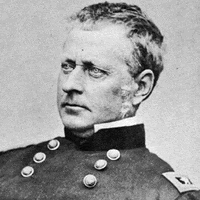 VITAL STATISTICS
BORN: 1814 in Hadley, MA.
DIED: 1879 in Garden City, NY.
CAMPAIGNS: Williamsburg, Seven Pines, White Oak Swamp, Malvern Hill,
Second Bull Run, Bristoe Station, Antietam, South Mountain, Fredericksburg, Chancellorsville, Chattanooga, Lookout Mountain, Mill Creek Gap, Resaca, Cassville,
New Hope Church, Pine Mountain, and Atlanta.
HIGHEST RANK ACHIEVED: Major General.

BIOGRAPHY
Joseph Hooker was born on November 13, 1814, in Hadley, Massachusetts. He attended Hopkins Academy in Hadley, then went to the US Military Academy at West Point, graduating in 1837. After serving in the Second Seminole War and on duty along the Canadian border, he was appointed adjutant at West Point. During the Mexican, War, Hooker fought under Gen. Zachary Taylor and Gen. Winfield Scott, and was brevetted for gallantry at Monterrey. He testified in defense of Gideon Pillow, who had been accused of disloyalty to Scott, although this action caused a strain in Hooker's relationship with Scott. In 1853, Hooker resigned from the army, settled as a farmer in Sonoma, California and joined the state militia. When the Civil War began. Hooker volunteered, but was rejected, possibly because of General Scott. By May of 1861, however, Hooker was appointed brigadier general of volunteers, and was assigned to the defenses of Washington, D. C. In May of 1862, Hooker led a division at Williamsburg, which was heavily attacked by Confederate forces. At one point, his horse was wounded, and he fell in the mud, but he maintained a fighting spirit. Thus, he acquired the nickname, "Fighting Joe," for the courage he demonstrated. Hooker also took part in the Battles of Seven Pines, White Oak Swamp, Malvern Hill, Bull Run (Second), Bristoe Station and Williamsburg Road. He commanded the I Corps, and fought in the Antietam Campaign and at South Mountain. Wounded in the foot at Antietam, he took time off to recover. As of May 5, 1862, he was a major general of volunteers, and was promoted to brigadier general in the Regular Army on September 20, 1862. Upon his recovery, he returned to the field, but was defeated at Fredericksburg. Hooker was one of several Union officers who criticized Maj. Gen. Ambrose E. Burnside's conduct. Burnside asked that Hooker or some other of those officer be removed. Because of Burnside's shortcomings as a commander, President Lincoln had Burnside himself removed from command of the Army of the Potomac, replacing him with Hooker. The change was made official in a letter from President Lincoln dated January 26, 1863. In the letter, Lincoln cautioned Hooker, explaining his concern over Hooker's belief that "both the Arm and the Government needed a dictator. Of course, it was not for this, but in spite of it, that I have given you command." Upon his eager assumption of duties, Hooker reorganized the army, eliminating large divisions and turning the cavalry into a corps. The new army was first tested at the Battle of Chancellorsville in May of 1863, in which the union forces lost 1,606 killed; 9,762 wounded and 5,919 missing. Confederate forces lost 1,665 dead; 9,081 wounded and 2,018 missing, but the casualties comprised a larger percent of Confederate troops and included the death of Confederate Lt. Gen. Thomas J. "Stonewall" Jackson. Hooker was replaced in his command by Maj. Gen. George G. Meade, only three days before the Battle of Gettysburg. Hooker went on to command the XI and XII corps, and sent to the Western theater. He participated in the Battles of Chattanooga and Lookout Mountain in 1863, and was brevetted a major general in the Regular Army for his leadership. His strengths as a corps commander were shown at the Battles of Mill Creek Gap, Resaca, Cassville, New Hope Church and Pine Mountain, as well as in the Siege of Atlanta. When he was passed over for a promotion which he had appropriately expected to receive, he asked to be relieved of his position. The request was accepted, and Hookers career in field service ended. Transferred to various commands, including the Departments of the East and the Lakes, he suffered a stroke that partially paralyzed him. Not long afterwards, on October 15, 1868, he retired from the Army. Hooker died in Garden City, New York, on October 31, 1879.