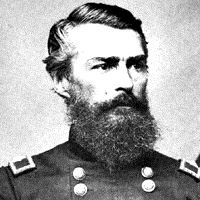 VITAL STATISTICS
BORN: 1817 in Philadelphia, PA.
DIED: 1905 in New Jersey.
HIGHEST RANK ACHIEVED: Superintendant of Union Railroads.
BIOGRAPHY
Herman Haupt was born on March 26, 1817, in Philadelphia, Pennsylvania. He graduated from the US Military Academy in 1835. He resigned his commission after three months; and became a railroad engineer, teaching civil engineering, architecture and mathematics at Pennsylvania College in Gettysburg. In 1851, his "General Theory of Bridge Construction" was published, establishing his reputation as an authority on the subject. In 1851 and 1852, Haupt worked as general superintendent of the Pennsylvania Railroad, later serving on the board of directors. He became the engineer and one of the financiers of the five-mile Hoosac Tunnel in the Berkshires of Massachusetts. In April of 1862, Secretary of War Edwin M. Stanton asked Haupt to head the effort to utilize the US railroad system for military purposes. He was appointed aide-de-camp to Maj. Gen. Irvin McDowell, at the rank of colonel. Haupt worked to secure rail lines in the Washington area by building blockhouses in weak locations and setting up stockades around machine shops. He also armed and trained railroad staff, strengthening their resistance to attack, and improved telegraph communications along the railroad lines. His personal supervision and detail-oriented inspection made his repairs of damages rail lines and bridges extraordinarily successful. Promoted to brigadier general of volunteers on September 5, 1862, he refused the appointment, Haupt explained that he would be glad to serve without official rank or pay, but that he did not want to limit his freedom to work in private business. When he was pressured to accept the commission, he resigned from the military on September 14, 1863. For his remaining years, Haupt worked for various railroads as an engineer and general manager. Haupt died of a heart attack on December 14, 1905, while on a train in New Jersey.