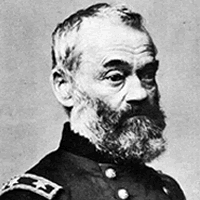 VITAL STATISTICS
BORN: 1805 in Mannheim, PA.
DIED: 1880 in District of Columbia.
CAMPAIGNS: Alexandria, First Bull Run, Peninsula, Yorktown, Williamsburg, Seven Pines, Seven Days', and Second Bull Run.
HIGHEST RANK ACHIEVED: Major General.

BIOGRAPHY
Samuel Peter Heintzelman was born in Manheim, Pennsylvania, on September 30, 1805. Graduating from West Point in 1826, he spent 20 years on garrison duty, recruiting and performing quartermaster services. In the Mexican War, he was brevetted for gallantry. After serving in the Southwest, he was brevetted a lieutenant colonel. When the Civil War began, Heintzelman was commissioned colonel in command of the new 17th US Infantry. Three days later, on May 17, 1861, he was promoted to brigadier general. Heintzelman led troops as they seized Alexandria, and fought at the First Battle of Bull Run, in which he was wounded. He was appointed major general on May 5, 1862, and took part in Maj. Gen. George B. McClellan's Peninsula Campaign. Despite the courage he displayed in previous engagements, his performance in the Peninsula Campaign showed Heintzelman to be an overly cautious field commander. This caution and magnification of minor difficulties was a feature of his actions at Yorktown and Williamsburg. He also served in the Seven Days' Campaign, but was not effective at the Second Battle of Bull Run, his last campaign as a corps commander. In October of 1862, he was relieved of corps command and assigned to the Military District of Washington. He remained there for two years; then was placed in command of the Northern Department, headquartered in Columbus, Ohio. In the last months of the war, Heintzelman served on court martial duty, and retired in 1869. He died on May 1, 1880, in the District of Columbia.