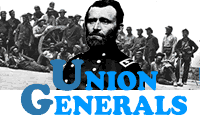 GENERAL WILLIAM BABCOCK HAZEN, USA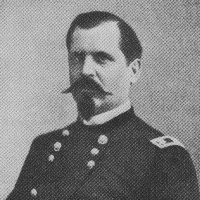 VITAL STATISTICS
BORN: 1830 in West Hartford, VT.
DIED: 1887 in District of Columbia.
CAMPAIGNS: Shiloh, Stone's River, Round Forest, Chickamauga,
Cracker Line Operation (Siege of Chattanooga), Missionary Ridge, March to the Sea,
and Fort McAllister (Siege of Savannah).
HIGHEST RANK ACHIEVED: Major General.

BIOGRAPHY
William Babcock Hazen was born on September 27, 1830, in West Hartford, Vermont. His family moved to Ohio when he was three years old, and young Hazen grew up in a village named Hiram. He dreamed of attending the US Military Academy at West Point, and succeeded in fulfilling that ambition, graduating in 1855. Hazen served in the Oregon Territory, fighting against Klamath and Rogue River Indians. In 1859, he was wounded by Comanche Indians in Texas. When the Civil War began, Hazen was brevetted a 1st lieutenant and was working as an assistant instructor of infantry tactics at West Point. A childhood friend helped him obtain an appointment as colonel of an Ohio infantry. In November of 1861, he was appointed to brigade leadership. Hazen led troops at the Battles of Shiloh and Stone's River. Late in 1863, he erected the first Civil War monument, at the site of the Battle of Stone's River, to honor the men in his brigade who died in that battle. Hazen participated in the Battle of Chickamauga, the Siege of Chattanooga and the Battle of Missionary Ridge. In 1864, he led the 2d Division of the XV Corps of the Army of the Tennessee during Sherman's March to the Sea. He was also involved in the attack on Fort McAllister, on December 13, 1864, at the height of the Siege of Savannah. By the end of the Civil War, Hazen was a major general of volunteers, and had been brevetted a major general in the Regular Army. After the Civil War, he became colonel of the 38th, then the 6th US Infantry. He fought in Indian campaigns, and observed the Franco-Prussian War. Hazen was involved in controversies with Gen. Philip H. Sheridan, Gen. George A. Custer, Secretary of War William W. Belknap and Secretary of War Robert Todd Lincoln. Eventually becoming a brigadier genera; and chief signal officer in the Army, he died in the District of Columbia, on January 16, 1887.