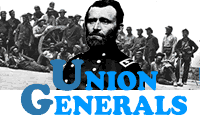 GENERAL ALEXANDER HAYS, USA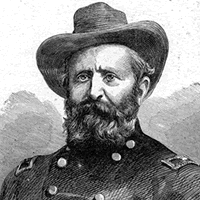 VITAL STATISTICS
BORN: 1819 in Franklin, PA.
DIED: 1864 in Wilderness, VA.
CAMPAIGNS: Yorktown, Williamsburg, Seven Pines, Savage's Station, Malvern Hill, Second Bull Run, Gettysburg, Pickett's Charge, Wilderness.
HIGHEST RANK ACHIEVED: Major General.

BIOGRAPHY
Alexander Hays was born on July 8, 1819, in Franklin, Pennsylvania. After attending two academies, he studied at Allegheny College. In his senior year, he left Allegheny to go to the US Military Academy at West Point. Hays graduated in 1844, after forming a close friendship with Ulysses S. Grant, who graduated in 1843. For his service in the Mexican War, Hays received a brevet. In 1848, Hays resigned from the army, traveling to California in search of gold. He later returned to Pennsylvania and became a construction engineer with a specialty in building bridges. When the Civil War began, Hays enlisted in the Regular, as captain of the new 16th Infantry. He commanded the 63d Pennsylvania, and commanded the regiment in Maj. Gen. Philip Kearny's division of the III Corps. Hays took part in the Battles of Yorktown, Williamsburg, Seven Pines, Savage's Station and Malvern Hill. In the Second Battle of Bull Run, he was seriously wounded. On September 29, 1862, he was promoted to brigadier general, and was stationed in the defenses of Washington when he had recovered. In 1863, he led the 3d Division of the II Corps, which took part in Pickett's Charge. Hays also participated in the Battle of Gettysburg. When the III Corps joined the II Corps, Hays was assigned to brigade command. Hays was killed in combat at the Battle of the Wilderness, on May 5, 1864. He was brevetted a major general posthumously, to date from his death.