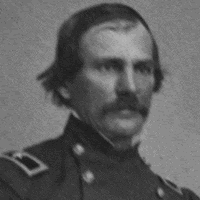 VITAL STATISTICS
BORN: 1819 in Richmond, VA.
DIED: 1875 in Fort Independence, MA.
CAMPAIGNS: Peninsula, Gettysburg, and Appomattox.
HIGHEST RANK ACHIEVED: Brigadier General.

BIOGRAPHY
William Hays was born in Richmond, Virginia, on May 9, 1819. After his family moved to Nashville, Tennessee, he attended the US Military Academy at West Point, and graduated in 1840. He was assigned to a prestigious horse battery, Capt. James Duncan's A/2d US Artillery. As part of this unit, Hays fought in the Mexican War, and was brevetted a captain and a major. In the years before the Civil War, Hays served in various garrisons, and fought against Seminoles in Florida. When the Civil War began, he was a captain in the defenses of Washington. Under Lt. Gen. Henry J. Hunt, Hays commanded a four-battery brigade in the Artillery Reserve of the Army of the Potomac. He became Artillery Reserve leader after serving well at Williamsburg and Gaines' Mill. On November 29, 1862, Hays was promoted to brigadier general. he took command of a brigade in the 1st Division of the II Corps and soon fought at Chancellorsville. He was captured there, but was soon exchanged. Hays was able to rejoin the Union military at the beginning of the Gettysburg Campaign. When two officers were wounded, Hays was placed in command of the II Corps, but gave up the command in September when he was unable to obtain a major generalship required for the position. He served on provost duty in New York City until February of 1865, and returned to the field in the Appomattox Campaign, leading the 2d Division of the II Corps. Hays' career was ruined on April 6, 1865, when he was relieved of duty for falling asleep on duty, after having been warned to remain alert.. He was brevetted a brigadier general of volunteers for his service in the war, but never actually held any position above major in the Regulars. While commanding Fort Independence, Massachusetts, Hays died, on February 7, 1875.