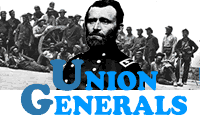 GENERAL JOHN PARKER HAWKINS, USA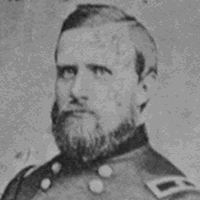 VITAL STATISTICS
BORN: 1830 in Indianapolis, IN.
DIED: 1914 in Indianapolis, IN.
CAMPAIGNS: Mobile.
HIGHEST RANK ACHIEVED: Major General.
(Commisary Department).
BIOGRAPHY
John Parker Hawkins was born in Indianapolis, Indiana, on September 29, 1830. He graduated from West Point in 1852, and became a 2d lieutenant in the 2d Infantry two years later. Serving as regimental quartermaster from 1858 to 1861, he joined the army Commissary Department when the Civil War began. Hawkins held a number of positions in Missouri as assistant inspecting commissary, then as chief commissary. In 1863. he was chief commissary of the Army of the Tennessee, but became ill and had to leave the service for three months. Upon his return to duty, he was transferred to Louisiana and a black brigade. On April 13, 1863, he was promoted to brigadier general of volunteers. As commander of an all-black division, he joined the Union garrison near Vicksburg, Mississippi, in 1864. Haupt led his division in the siege and capture of Mobile in March of 1865. After the siege, Haupt was brevetted a major, and was given the rank of brigadier, then major general in the Regular Army, as well as major general of volunteers. Once the Civil War ended, Haupt joined the Subsistence Department with the rank of captain in the Regular Army, working for 28 years. In 1894, he retired as commissary general of subsistence, and moved to Indianapolis, Indiana. Hawkins died on February 7, 1914, in Indianapolis.