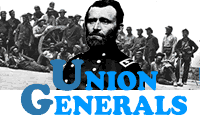 GENERAL MILO SMITH HASCALL, USA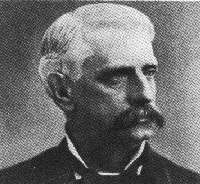 VITAL STATISTICS
BORN: 1829 in LeRoy, NY.
DIED: 1904 in Oak Park, IL.
CAMPAIGNS: Phillipi, Stone's River, Knoxville, Atlanta.
HIGHEST RANK ACHIEVED: Brigadier General.
BIOGRAPHY
Milo Smith Hascall was born on August 5, 1829, in LeRoy, New York. He moved to Goshen, Indiana, when he was a teenager. Hascall worked as a clerk and schoolteacher, then entered West Point, and graduated in 1852. After spending a year in the artillery service at Fort Adams, Rhode Island, he returned to Indiana. There he became a contractor for the Michigan Southern and Northern Indiana Railroad; then worked as an attorney, district attorney and clerk of courts. When the Civil War began, Hascall enlisted as a private in a three-month regiment. Appointed an aide-de-camp with state troops, he saw action at Phillipi, western Virginia.
Nine days later, he became colonel of the 17th Indiana and, by December, was assigned to brigade command in the Army of the Cumberland. He arrived in Tennessee too late to take part in the Battle of Shiloh, but was promoted to brigadier general on April 25, 1862. That winter, he participated in the march to Corinth, Mississippi and the Battle of Stone's River. Transferring to the Army of the Ohio, he led the District of Indiana briefly, then fought in the Siege of Knoxville in 1863. In the Atlanta Campaign, he led the 2d Division of Maj. Gen. William T. Sherman's XXIII Corps. Although Maj. Gen. John M. Schofield recommended him for promotion, Hascall's promotion was denied. Hascall resigned on October 27, 1864. Returning to Goshen, he became a banker, and then moved to Galena, Illinois. In 1890, he moved to Chicago, and entered the real estate business. Hascall died in Oak Park, Illinois, on August 30, 1904.