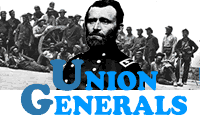 GENERAL GEORGE LUCAS HARTSUFF, USA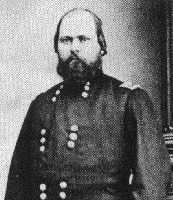 VITAL STATISTICS
BORN: 1830 in Tyre, NY.
DIED: 1874 in New York City, NY.
CAMPAIGNS: Fort Pickens, Cedar Mountain, Second Bull Run, South Mountain, Antietam, Bermuda Hundred.
HIGHEST RANK ACHIEVED: Major General.
BIOGRAPHY
George Lucas Hartsuff was born in Tyre, New York, on May 28, 1830. He and his family moved to Michigan when he was 12. He graduated from West Point in 1852, served in Texas briefly, then fought in the Seminole War, in which he received two serious wounds. He was an instructor at West Point until the Civil War began, when he took part in a secret expedition to reinforce Fort Pickens, in Florida. In July of 1861, he was appointed Brig. Gen. William S. Rosecrans' chief of staff, while Rosecrans was commanding the Department of West Virginia. On April 15, 1862, Hartsuff was appointed a brigadier general, and placed in command of a brigade in Maj. Gen. Irvin McDowell's corps. He led his troops at the Battles of Cedar Mountain, Bull Run (Second) and South Mountain, and was seriously wounded at Antietam. Promoted to major general on November 19, 1862, he sent the rest of the war going back and forth between field command and court martial duty. He served on various boards and commissions, with his wounds holding him back from combat service. Appointed commander of the XXIII Corps in May of 1863, he gave up the position later because of his ill health. He finally returned to field command in March of 1865, when he commanded the defenses of Bermuda Hundred in the Department of Virginia and North Carolina. Because of his war record, Hartsuff was brevetted a brigadier and major general in the Regular army, and remained in the service after the war ended. He transferred to the Department of the Gulf in 1866, and later served in the Fifth Military District and the Division of the Missouri. He retired in 1871, as a result of his war injuries. Hartsuff contracted pneumonia, due to a lung scar he had sustained from an injury he had received in the Seminole War. This led to his death on May 16, 1874, in New York City.