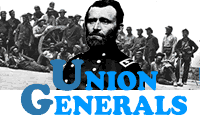 GENERAL CHARLES GARRISON HARKER, USA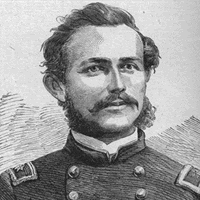 VITAL STATISTICS
BORN: 1835 in Swedesboro, NJ.
DIED: 1864 in Kennesaw Mountain.
CAMPAIGNS: Shiloh, Corinth, Perryville, Stone's River, Chickamauga,
Chattanooga, Missionary Ridge, Knoxville, Atlanta, Kennesaw Mountain.
HIGHEST RANK ACHIEVED: Brigadier General.
BIOGRAPHY
Charles Garrison Harker was born on December 2, 1835, in Swedesboro, New Jersey. He worked as a retail clerk working for Congressman Nathan T. Stratton. Stratton append him to West Point, from which Harker graduated in 1858. After graduating, he served at Governor's Island, New York; and in Oregon and Washington territories. Early in 1861, he began training Ohio volunteers for service in a civil war. A few months after the war began, he became a colonel of the 6th Ohio Volunteers, attached to Brig. Gen. Don Carlos Buell's command. Harker fought at Shiloh, the Siege of Corinth, and the Battle of Perryville. He made a major contribution at the Battle of Stone's River, and took a firm stand at the Battle of Chickamauga. Because of his contribution to the Union effort, he was promoted to brigadier general to date from September 20, 1863. After participating in the Battles of Chattanooga and Missionary Ridge, he helped relieve Maj. Gen. Ambrose E. Burnside at Knoxville. Early in the Atlanta Campaign, he led a brigade in the IV Corps. Harker was shot from his horse and killed during the Battle of Kennesaw Mountain, on June 27, 1864.