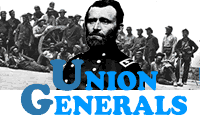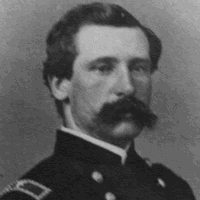 VITAL STATISTICS
BORN: 1837 in Jacksonville, IL.
DIED: 1923 in St. Augustine, FL.
(Last survivor of the West Point Class of 1859).
CAMPAIGNS: Peninsula, Seven Days', Groveton, Second Bull Run
Bristoe, Mine Run, North Anna River.
HIGHEST RANK ACHIEVED: Brigadier General.
BIOGRAPHY
Martin Davis Hardin was born in Jacksonville, Illinois, on June 26, 1837. He was the grandson of a US Senator; and the son of a militia general, who was killed in the Mexican War. Young Hardin graduated from West Point in 1859, served as an artillery lieutenant in Oregon. When the Civil War began, he was promoted to 1st lieutenant, and was assigned to Col. Henry J. Hunt's staff. Hardin took part in the Peninsula and Seven Days' Campaigns, and led the 12th Pennsylvania Reserves at Groveton. He was wounded at the Second Battle of Bull Run. After leading two other brigades in succession, he returned to his regiment, which he commanded during the Battle of Gettysburg. As a result of his actions at Gettysburg, he was given permanent command of a brigade in the V Corps, leading the brigade in the Bristoe and Mine Run Campaigns. While Hardin was inspecting pickets near Catlett's Station, Confederate guerrillas ambushed him. As a result, Hardin's left arm was amputated, and he could not return to duty until the spring of 1864. Wounded again in operations along the North Anna River, he took time off to recuperate. While he was recovering, he was promoted to brigadier general, on July 2, 1864. When he returned to duty, he was placed in command of the XXII Corps, defending the area north of the Potomac. Brevetted a brigadier general, he remained in the Regular Army when the war ended. Hardin was named major of the 43d Infantry in 1866, and retired four years later because of his war wounds. He went on to study law in Chicago and become successful, becoming active in veterans affairs and writing. Hardin died on December 12, 1923, in St. Augustine, Florida, the last member of his West Point class to die.