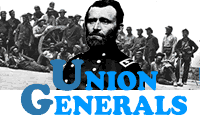 GENERAL WINFIELD SCOTT HANCOCK, USA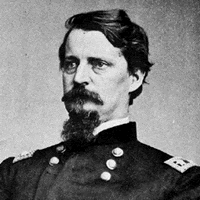 VITAL STATISTICS
BORN: 1824 in Montgomery Square, PA.
DIED: 1886 in Governor's Island, NY.
CAMPAIGNS: Gettysburg, Virginia (1864).
HIGHEST RANK ACHIEVED: Brigadier General.

BIOGRAPHY
Winfield Scott Hancock was born in Montgomery Square, Pennsylvania, on February 14, 1824. He graduated from West Point in 1844, and was appointed a brigadier general to date from September 23, 1861. During the Civil War, he fought in the campaigns of the Army of the Potomac. At the Battle of Gettysburg, he contributed greatly to the Union effort, and was seriously wounded. After a recuperation leave of six months, Hancock returned to active service, and fought through the Virginia campaigns of 1864, until his failing health forced him to go to Washington in November. While in Washington, he recruited people for a corps of veterans. Throughout his military career, Hancock maintained a professional attitude, and did not get involved in military and political intrigues. After the Civil War, he commanded the Fifth Military District, and was reluctant to replace civil courts with military courts, to the dismay of the Radical Republicans. By 1866, Hancock was a major general in the Regular Army, and eventually took command of the Department of the East. The Democrats nominated him for President, but he lost the election to James A. Garfield. During the campaign, Hancock embarrassed himself when it became apparent that he did not know the meaning of the term tariff. Hancock died on February 9, 1886, on Governors Island, New York.