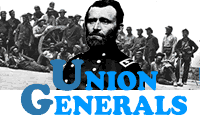 GENERAL ANDREW JACKSON HAMILTON, USA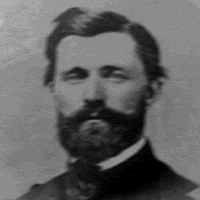 VITAL STATISTICS
BORN: 1815 in Huntsville, AL.
DIED: 1875 in Austin, TX.
CAMPAIGNS: Galveston.
HIGHEST RANK ACHIEVED: Brigadier General.
(First appointment unconfirmed and expired, later reappointed).
BIOGRAPHY
Andrew Jackson Hamilton was born on January 28, 1815, in Huntsville, Alabama. He worked as a clerk and studied law, then practiced law, in Alabama until 1847. He moved to Texas, where he became state attorney general, a member of the state legislature and, in 1859, a member of the US House of Representatives. Throughout the secession crisis of 1861, he maintained his anti-secessionist stance. By the spring of 1861, he was the only Texas representative in Congress. His constituents reelected him, despite the fact that Texas had already joined the Confederacy. Many in the South called the election, and Hamilton himself, treasonous. There were rumors that Hamilton intended to lead the people of Austin in an anti-secessionist rebellion, and he had to flee to Mexico in 1862 to avoid arrest. After going to Washington, D.C., he was commissioned a brigadier general of volunteers on November 14, 1862. Appointed military governor of Texas, he put pressure on the US Navy and Army in their attempts to capture Galveston. Hamilton placed some of his creditors on the expeditions' ships, intending to pay his debts by giving the creditors opportunities to speculate with Texas cotton. Maj. Gen. Nathaniel P. Banks considered Hamilton "without force of character." In addition, Union Navy Secretary Gideon Welles had little confidence in Hamilton. Thus, Hamilton was not allowed to play an important role in the rest of the war. His initial appointment as a general had expired without being confirmed by Congress, but President Lincoln reappointed him on September 18, 1863. When President Andrew Johnson reaffirmed Hamilton's appointment as military governor of Texas, Hamilton resigned his general's commission and took over command. After the Civil War, the government of Texas returned to civilian status. Hamilton joined the state Supreme Court, and ran unsuccessfully for governor in 1869. He was involved in litigation against anti-Reconstruction Democrats in the state. Hamilton died in Austin, Texas, on April 11, 1875.