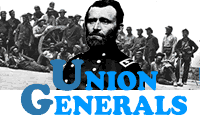 GENERAL HENRY WAGNER HALLECK, USA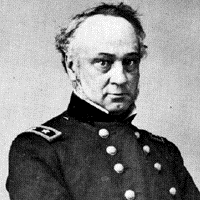 VITAL STATISTICS
BORN: 1815 in Westernville, NY.
DIED: 1872 in Louisville, KY.
CAMPAIGNS: First Bull Run, Peninsula, Fredericksburg, Chancelorsville, Gettysburg, Wilderness to Appomattox.
HIGHEST RANK ACHIEVED: Brigadier General.

BIOGRAPHY
Henry Wagner Halleck was born in Westernville, New York, on January 16, 1815. He graduated from West Point in 1839, with a great aptitude for military theory. Halleck later taught at West Point, and became an expert on fortifications, and fought in Mexico. A lawyer and writer, as well as a soldier and teacher; he wrote books on legal and military issues. Halleck served as secretary of state of California, and was the leading attorney in San Francisco during the gold rush, When the Civil War began, Halleck returned from California to accept a commission as major general in the Union Army, to date from August 19, 1861. That autumn, he commanded the Department of the Missouri, earning the nickname "Old Brains." His effectiveness in training the troops contributed to the field success of Gen. Ulysses S. Grant, Maj. Gen. Samuel R. Curtis and Maj. Gen. Don Carlos Buell. When Halleck himself led troops on the field; at Corinth, Mississippi in May of 1862; he performed poorly, and was overly cautious. President Lincoln named Halleck his general-in-chief in July of 1862. In that position, Halleck excelled as an administrator, but was not skilled in field affairs or personal interactions. When Gen. Grant was appointed supreme commander of all Union armies, Halleck was moved to the new position of chief of staff. He held this post until the end of the war. After the Confederate surrender, Halleck was in command of the Military Division of the James. He was later assigned to the Division of the Pacific, then to the Division of the South. Halleck died on January 9, 1872, in Louisville, Kentucky.