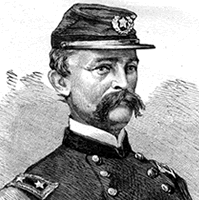 VITAL STATISTICS
BORN: 1825 in Granville, OH.
DIED: 1867 in Galveston, TX.
CAMPAIGNS: First Bull Run, Peninsula, Fredericksburg, Chancellorsville, Gettysburg, and Wilderness to Appomattox.
HIGHEST RANK ACHIEVED: Brigadier General.

BIOGRAPHY
Charles Griffin was born in Granville, Ohio, on December 18, 1825. After graduating from the US Military Academy at West Point in 1847, he honed his artillery skills in the Southwest as a field officer. In 1860, he became an instructor at West Point, where he organized a field battery. He fought at the First Battle of Bull Run and in the Peninsula Campaign. Promoted to brigadier general on June 9, 1862, he led infantry brigades at the Battles of Fredericksburg and Chancellorsville. He was delayed in his arrival at Gettysburg, due to illness. When he arrived, his troops were so happy to see him that they pulled him from his horse and carried him to his tent on their shoulders. He was an outspoken man, who was easily offended and angered, and came into conflict with Maj. Gen. George G. Meade at least once. Despite his ready temper, however, Griffin was an excellent combat officer. He led his division skillfully, from the Wilderness to Appomattox. After the Civil War, Griffin was made colonel of the 35th US Infantry. Taking charge of the District of Texas, he remained in Galveston despite the yellow fever epidemic which was plaguing the city. Griffin died of yellow fever on September 15, 1867, in Galveston, Texas; and was buried in Oak Hill Cemetery, in the District of Columbia.