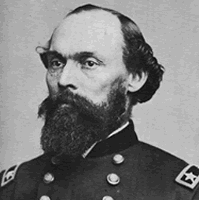 VITAL STATISTICS
BORN: 1822 in Joy, NY.
DIED: 1876 in Santa Fe, NM.
CAMPAIGNS: Dug Spring, Wilson's Creek, New Madrid, Island #10, Corinth, Chickamauga, Chattanooga, Knoxville, Fort Gaines and Morgan, and Mobile.
HIGHEST RANK ACHIEVED: Major General.

BIOGRAPHY
Gordon Granger was born in Joy, New York, on November 6, 1822. He graduated from West Point in 1845, and was brevetted twice for his service in the Mexican War. Until the beginning of the Civil War, Granger was part of the Mounted Rifles on the frontier. When the war began, he fought under Brig. Gen. Samuel D. Sturgis at Dug Spring and Wilson's Creek, Missouri. He became a brigadier general on March 26, 1862, and commanded troops at Campaigns of New Madrid, Island No. 10 and the Corinth. After leading several brigades in the Army of the Ohio in 1862, he was promoted to major general on September 17, 1862. Granger was a short man, a strict disciplinarian and unpopular among troops. Nevertheless, he led his forces effectively, and contributed to the Union war effort. He took part in the Battle of Chickamauga, during which Maj. Gen. George H. Thomas and his troops attempted to cover the Union retreat by standing firm at Horseshoe Ridge. Although he had not been ordered to do so, Granger sent two of his three brigades to support Thomas' corps, helping the Union troops hold the Confederate forces back until dark. This action allowed Maj. Gen. Rosecrans' troops to pass safely. He once wrote to Rosecrans: "the battle is neither to the swift nor to the strong but to him that holds on to the end. "Granger later took part in the Siege of Knoxville and in the capture of Mobile, Alabama. After the Civil War, he was on sick leave a great deal of the time. Granger died in Santa Fe, New Mexico Territory, on January 10, 1876.