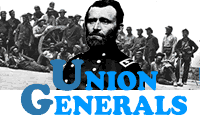 GENERAL ALVAN CULLEN GILLEM, USA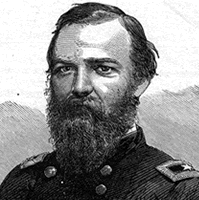 VITAL STATISTICS
BORN: 1830 in Gainesboro, TN.
DIED: 1875 in Soldier's Rest, TN.
CAMPAIGNS: Mill Springs, Shiloh, and Corinth.
HIGHEST RANK ACHIEVED: Major General.

BIOGRAPHY
Alvan Cullen Gillem was born on July 29, 1830, in Gainesboro, Tennessee. He grew up and was educated in rural central Tennessee, then studied in Nashville. After graduating from West Point in 1851, he served in Florida and on the frontier. When the Civil War began, Gillem was a captain and assistant quartermaster in Tennessee. He fought at the Battles of Mill Springs and Shiloh, and was chief quartermaster for the Army of the Ohio. By August of 1863, he was a brigadier general, to rank from the 17th of August. Gillem took part in cavalry duty in East Tennessee in 1864, fought in several engagements. In January of 1865, he was appointed vice president of the Tennessee constitutional convention. Brevetted a brigadier general and a major general in the Regular Army for his war service, he was promoted to major general of volunteers on November 3, 1865. While continuing his military service, Gillem became a member of the state legislature, and, from 1865 to 1866, he was commander of the military District of East Tennessee. He led troops in the Modoc Indian War in 1873, then went on sick leave. Gillem died in Soldier's Rest, Tennessee, on December 2, 1875.